Children's Dentistry In Oakville
At Olde Oakville Dental, you'll find many ways to achieve a wonderful smile with our comprehensive, one-stop dental care.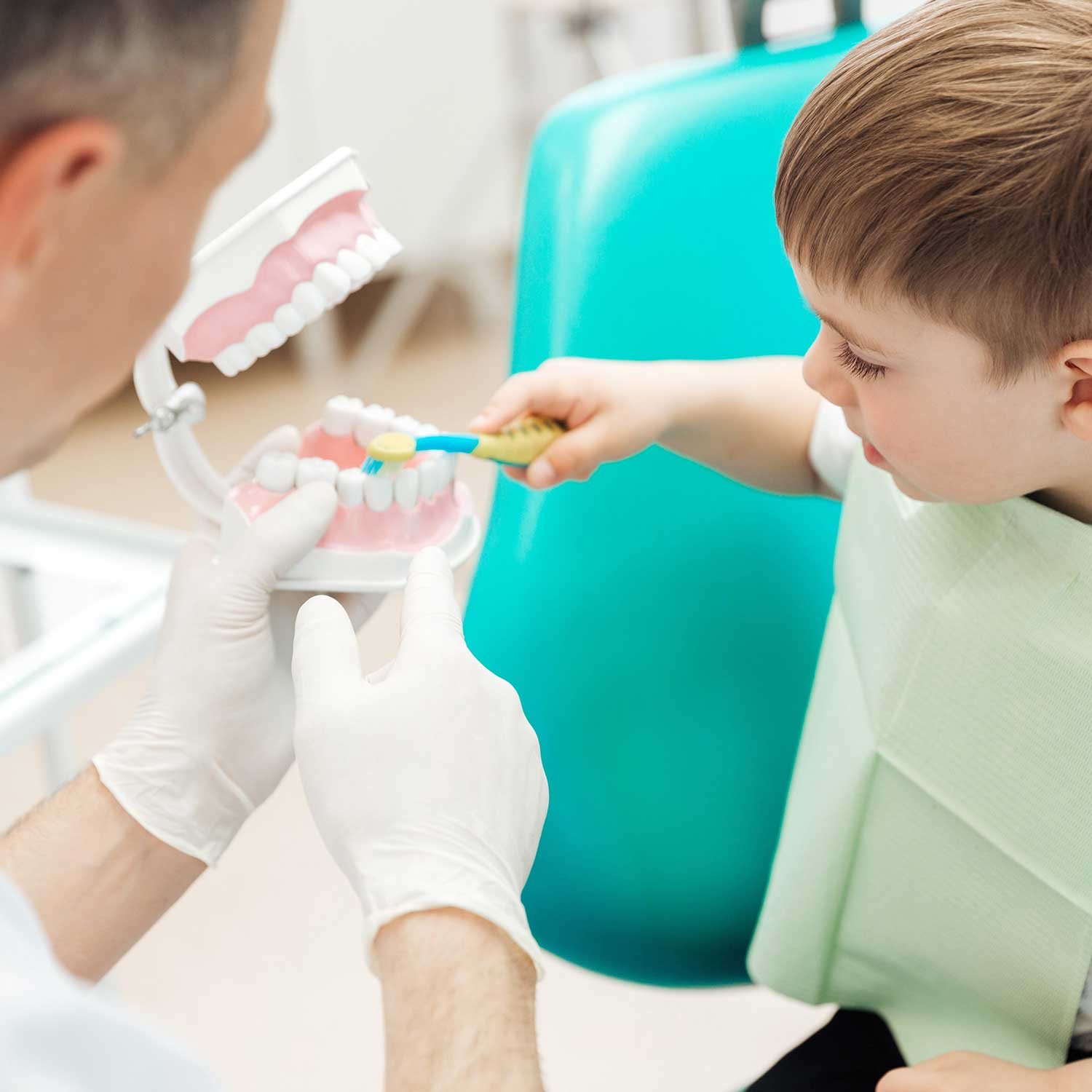 Your Child's First Dental Visit
Children enjoy a special place here. Our philosophy is to provide preventive care for your child in a safe, happy and healthy environment.
At Olde Oakville Dental, preventative care beings with a well before your child's first birthday. We look at feeding issues, tongue and healthy habits. If children receive proper dental treatment at an early age, they will be more likely to have good dental health when they are older.
Tooth decay has made a resurgence despite the prevalence of fluoridated water. Tooth decay is bacterially mediated, transmissible and entirely preventable. Olde Oakville Dental strives to educate and to promote strategies to reduce tooth decay in parents and their children. Strategies include: diet analysis and advice, in-office topically applied fluoride, prescribed home fluoride, preventive fissure fillings coupled with laser diagnosis, and reducing bacteria levels using Prevora or Chlorhexidine Rinses.
A child's first dental visit should be around their 1st birthday. You can help make your child's appointment an upbeat event by explaining to the child that fun things will happen at the dentist office, encourage the child to ask questions and reassure the child that the dentist and the staff are very friendly.
Parents please make Dr. De Souza aware of any behavioural problems you feel your child may display, for example if the child is afraid of strangers or cannot sit still for long. The team at Olde Oakville Dental is well trained in the appropriate methodology to relax, charm and win the confidence of children.
Our laser can be used to desensitize children's teeth to allow us to prepare and restore teeth without the need for injections of local anesthetic! This is also possible for new cavities on some adult teeth.
Being contactless, the laser produces no vibration and a difference sound profile verses high speed drills. It is kinder to the tooth and can be used to kill bacteria up to a full millimeter beyond the preparation depth.
Dynamic Approach To Dental Care
We offer iPads to keep your little ones amused. They can even Chromecast to the TV over their chair and watch cartoons or Youtube. You will find we are big on the little things in life, such as "hands-on" self-application of toothpaste, because we recognize that children learn best when they are involved. Our dynamic approach to dental care and education is based on a successful partnership with our young patients in order to achieve a lifetime of healthy, trouble-free teeth and gums. It is our goal to give your child a smile that will make you proud.
Why Primary Teeth are so important
The reason it is crucial to maintain the health of primary teeth or "baby teeth" is because neglected cavities frequently lead to significant problems, which will affect the developing permanent teeth. Primary teeth also affect the development of speech and add to an attractive appearance. While the front 4 teeth last until 6-7 years of age, the back teeth (cuspids and molars) are not replaced until age 10-13.
Primary teeth are important for:
▸ Proper chewing and eating
▸ Providing space for the permanent teeth and guide them into the correct position
▸ Normal development of the jawbone and muscles.
▸ Development of speech and swallowing patterns
Preventative Fissures Restorations
Fissures or fold lines in teeth, usually molars, are the most vulnerable place for early cavities. We have noted cavities here even before the teeth have fully erupted! We have found traditional fissure sealants inadequate in protecting these areas in the long term. Where appropriate, we use a minimal intervention technique combining a micro sandblaster and micro fine diamond drills to open up the fissures just enough to visualize any decay. Working under high magnification to open and inspect for decay prior to placing tiny fillings to predictably seal off these areas. We have used this technique for our own families and areour proud to offer the same level of caring to our family of patients.
Book Your
Appointment Online
Our dental office in Oakville uses the latest dental technology and provides personal patient care to solve dental problems that affect your overall lifestyle.
Book Your Appointment Online
Our dental office in Oakville uses the latest dental technology and provides personal patient care to solve dental problems that affect your overall lifestyle.